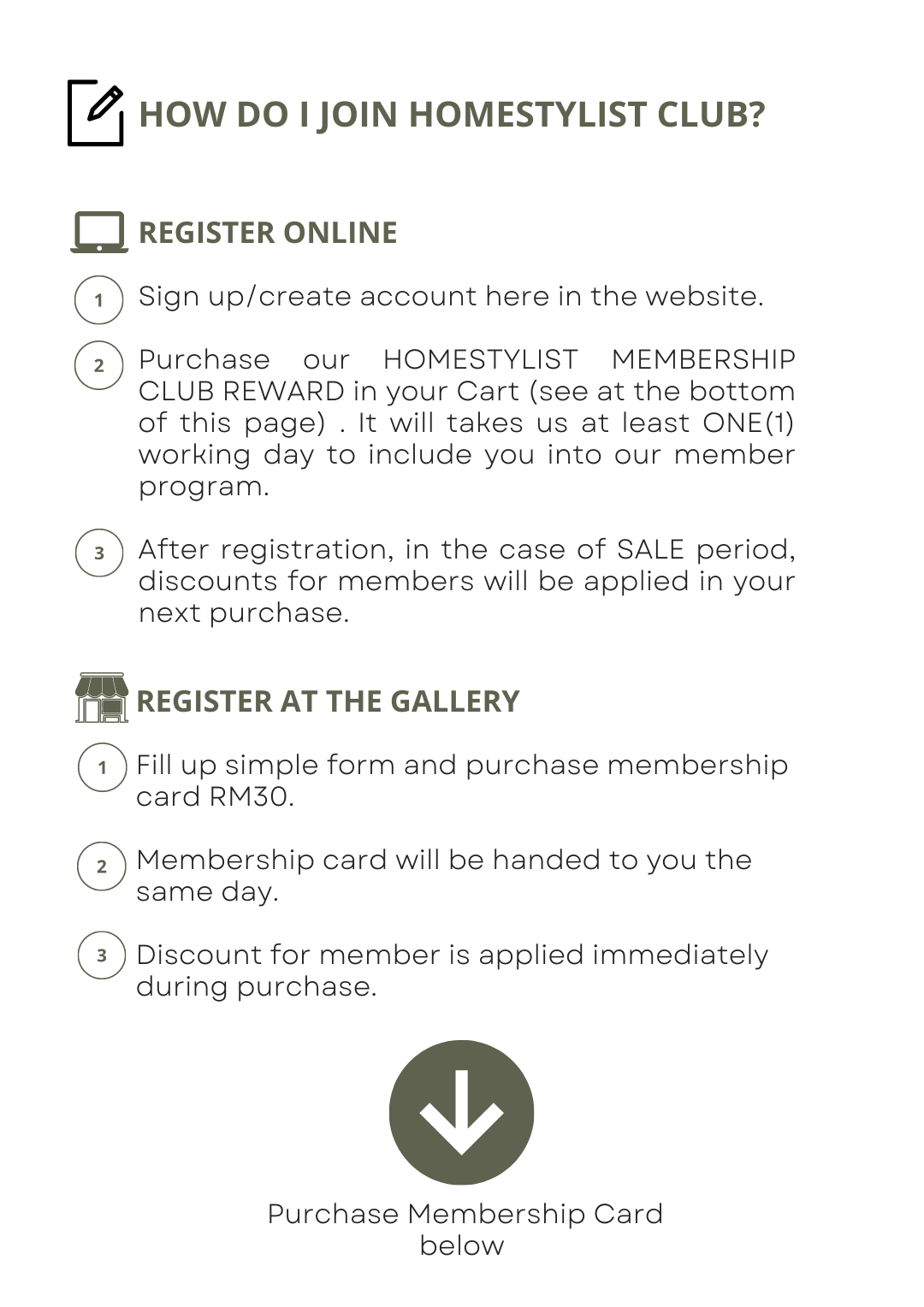 And...Voila! You are ready to enjoy your rewards @imhomestylist! Contact us if you need any help or information regarding joining our club.
FREQUENTLY ASKED QUESTIONS (FAQ)
1) HOW CAN I BE A MEMBER?
Register an account here in website and purchase the membership lifetime card for ONLY RM30. You automatically can enjoy the offers that are currently happening. If you register at the gallery, the discounts also will be applied immediately.
2) HOW DO I UPDATE MY MEMBERSHIP INFORMATION ?
Login at www.imhomestylist.com with your online user account and go to your profile.
3) WILL MEMBERSHIP CLUB CARD REWARDS AUTOMATICALLY RENEW?
Your membership card is last for lifetime. No need renewal.
4) WILL I GET A REFUND IF CANCEL HOMESTYLIST MEMBERSHIP CLUB ?
Your club card membership fee is non refundable.
5) WHEN I CAN START USE MY HOMESTYLIST MEMBER CLUB?
You may begin using your club card and enjoy all the benefits and privileges after you join.
6) HOW DO I USE MY CLUB CARD BENEFITS?
Your club card benefit will be assigned to your billing or billing address used to sign up. These offers will always be available in our website, you just need to login to your account and shop using your account. The price after discount will be shown when you CHECKOUT the items for payment
Do contact us if you have any inquiries or questions at these numbers +60 11-1124 0734/ +60 12-698 5351 or email us at hello@imhomestylist.com
Last edited 22 July 2022
Note : IMHOMESTYLIST has all rights to amend or change the terms and conditions as and when deemed necessary.
<<Add this to cart to join the club >>